Learning in the Time of Covid-19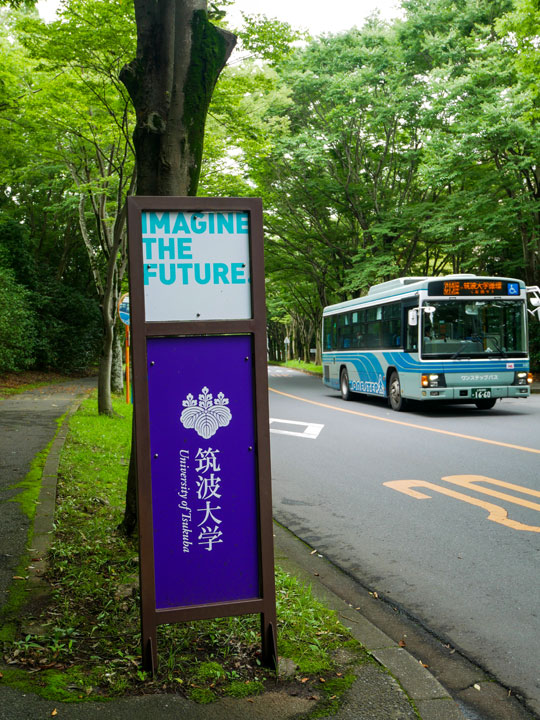 It's a humid, rainy afternoon in Tsukuba, Ibaraki, and Sara and Jannat arrive wearing their masks, either tucked in or pinned to their hijab. Besides the occasional city bus, the streets of the Tsukuba University campus are mostly empty, and the sounds of cicadas singing, a staple of Japanese summer, fill the air.
Although it is summer vacation, it is nevertheless surprising to see how few students are walking around, but between tsuyu, or the rainy season, and the ongoing COVID-19 pandemic, most people have opted to stay indoors.
"It's been really hard for me!" Sara says with an exasperated smile during a discussion on the unusually long rainy season. "I have to pick up my daughter on my bicycle. She has some rain protection, but I wear a rain poncho, and it gets so hot when I'm riding."
Both women have just finished their first semester as Ph.D. students, but there's no break for their research projects. Sara and Jannat use the same building for their computer laboratory work but on different floors. As we enter the building, all but a few lights are switched off to conserve energy, but in Sara's lab, they are on.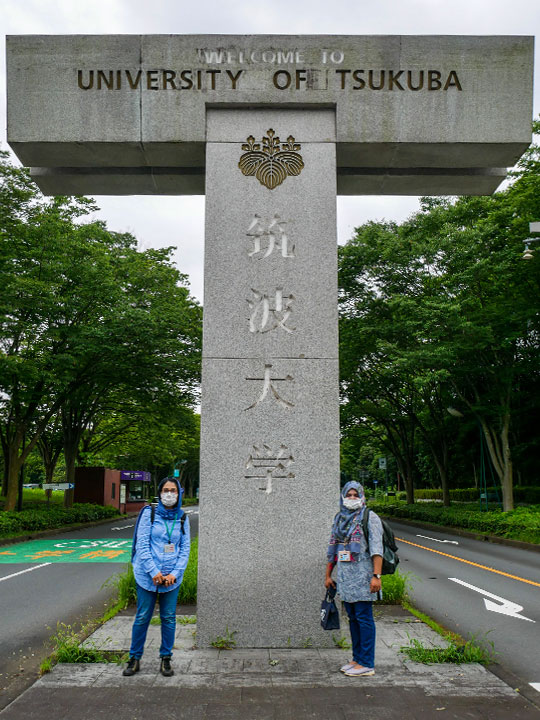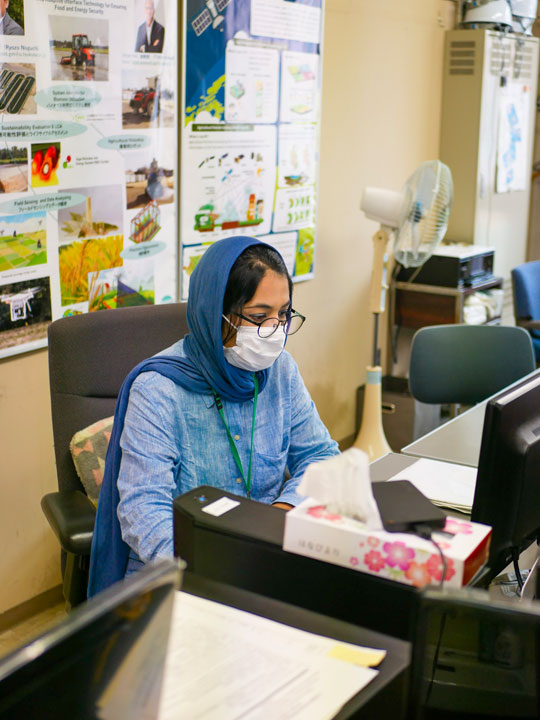 Inside are two rows of computers facing each other, and the walls are completely covered with research project posters of the department. In the farthest seat in Sara's row sits her senior. After greeting her, Sara points out her own poster.
"That's the one I used during the last conference," she says, showing a colorful collection of several maps of Afghanistan and how each area's production of grapes has been affected by drought and flash flooding. She also turns on her desktop to explain the process she uses to make composite maps which involves a meticulous process of piecing together different satellite images and overlaying them in order to determine which areas experience extreme weather and to predict how to prevent damage to crop yield. "I have to sign up for the time slot I want to use my computer here. The room is small so we cannot have all of us working in here at once."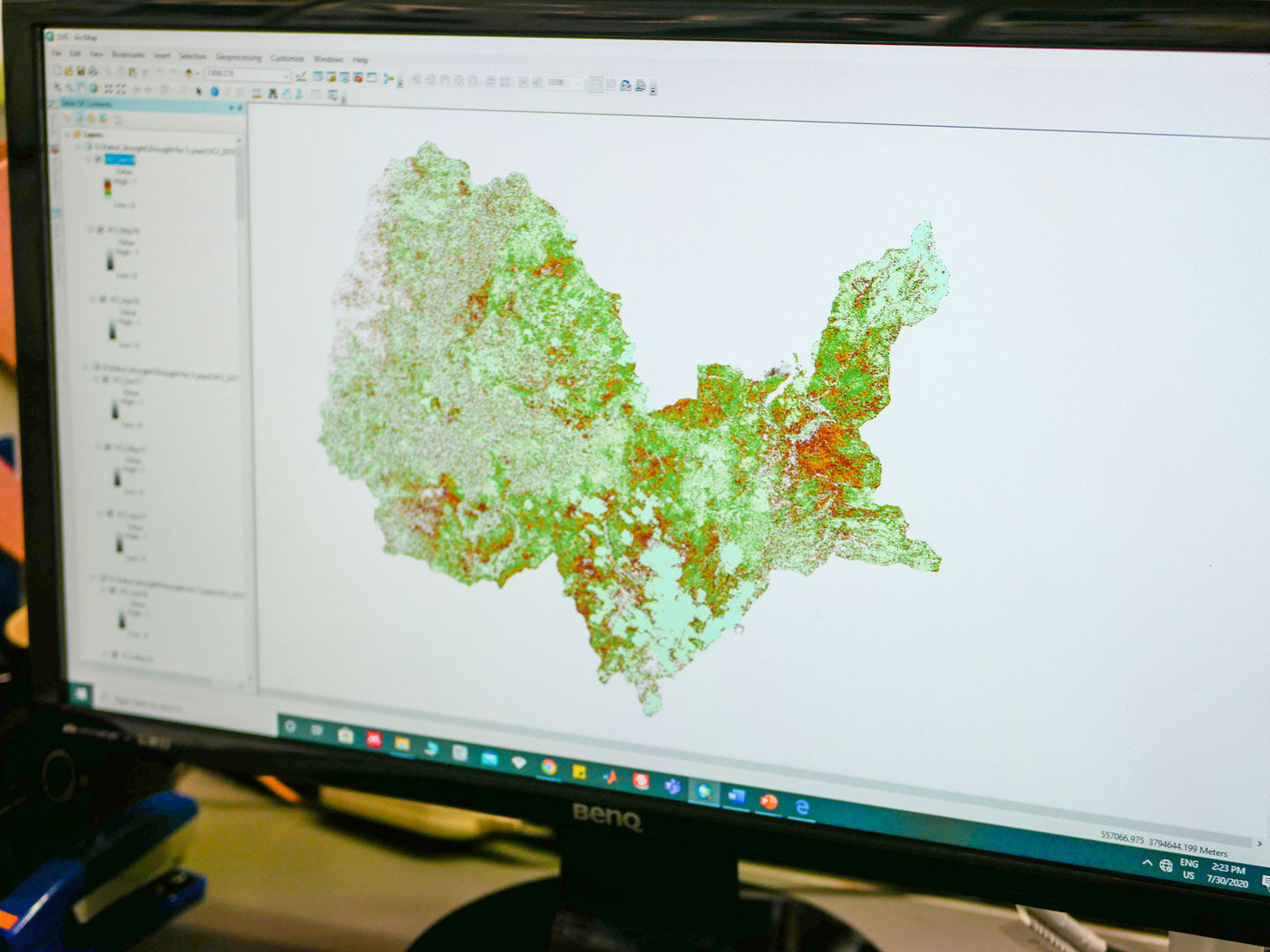 "My lab is open all day," Jannat says. "We have to sign up for the time we're going to use it, but there usually aren't many people using mine." We head to the elevator to check out what Jannat's lab looks like in comparison.
Tsukuba University, like most Japanese university campuses, has transitioned students into online learning for the time being. Although many campus facilities, such as the convenience store and coffee shop, are still in operation, classes must be taken remotely.
After looking in at a few empty conference and student break rooms, Jannat leads us into her computer lab. "This is my desk," she cheerfully points to her seat, one desk away from a large window looking out to the rooftops of some university buildings and Mt. Tsukuba.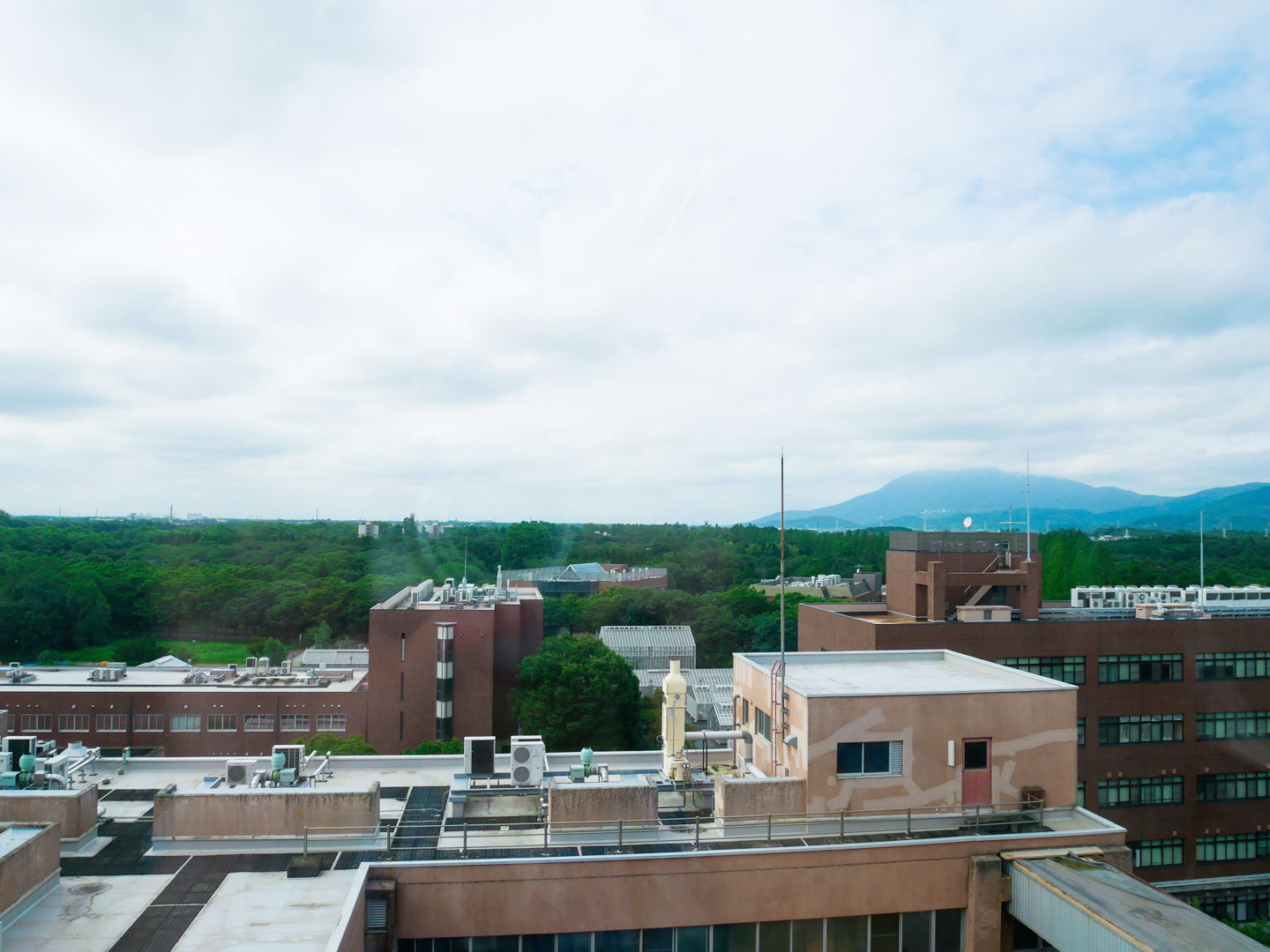 On her desk are the book she was given by her professors to help her create mathematical formulas and a small report called "The Bangladesh Model in Agriculture Growth." Jannat has been working diligently to gather a multitude of data points and variables to work out the details of potential potato production in Bangladesh. Using the extensive spreadsheets she has created, Jannat is able to predict the probable crop yield and even price well into 2100. While that time is far from now, Jannat's upcoming meeting with her advisor is not.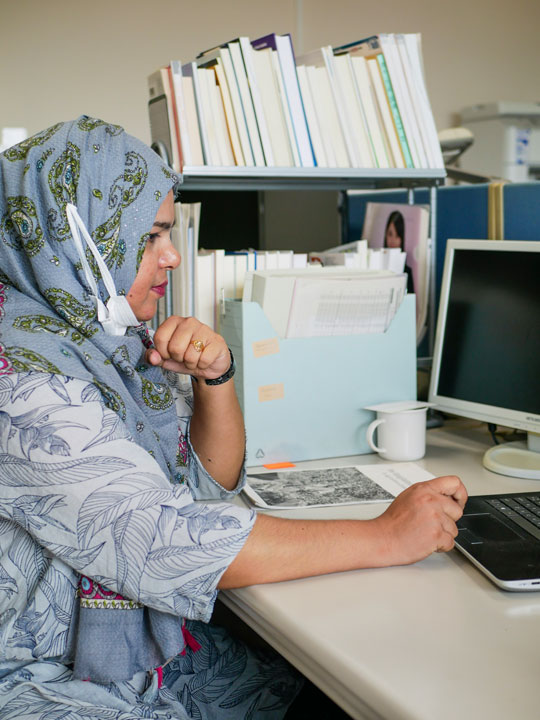 "I'm eager to begin writing my research paper now, but my professor suggested I run several more simulations before making any conclusions," she sighs. Even still, she opens several documents with the measurements she obtained from the Food and Agricultural Organization (FAO) and the Bangladesh Agricultural Research Institute (BARI) piled into countless data cells. "I hope it goes well and she approves!"
We leave the building after yielding the elevator to a maintenance crew to avoid an infraction of one of the "3 Cs" (closed spaces, close together, close conversation) proposed by the Governor of Tokyo and begin the walk to the bus stop. Along the way we stop for coffee, settling for the vending machine blend as the local café has shortened hours. As we chat over our afternoon pick-me-up, the women lament the ongoing mistreatment of women in their home countries and express their desire to contribute in some way before we continue our journey and expedited tour of the campus before they must rush off to pick their daughters up from school.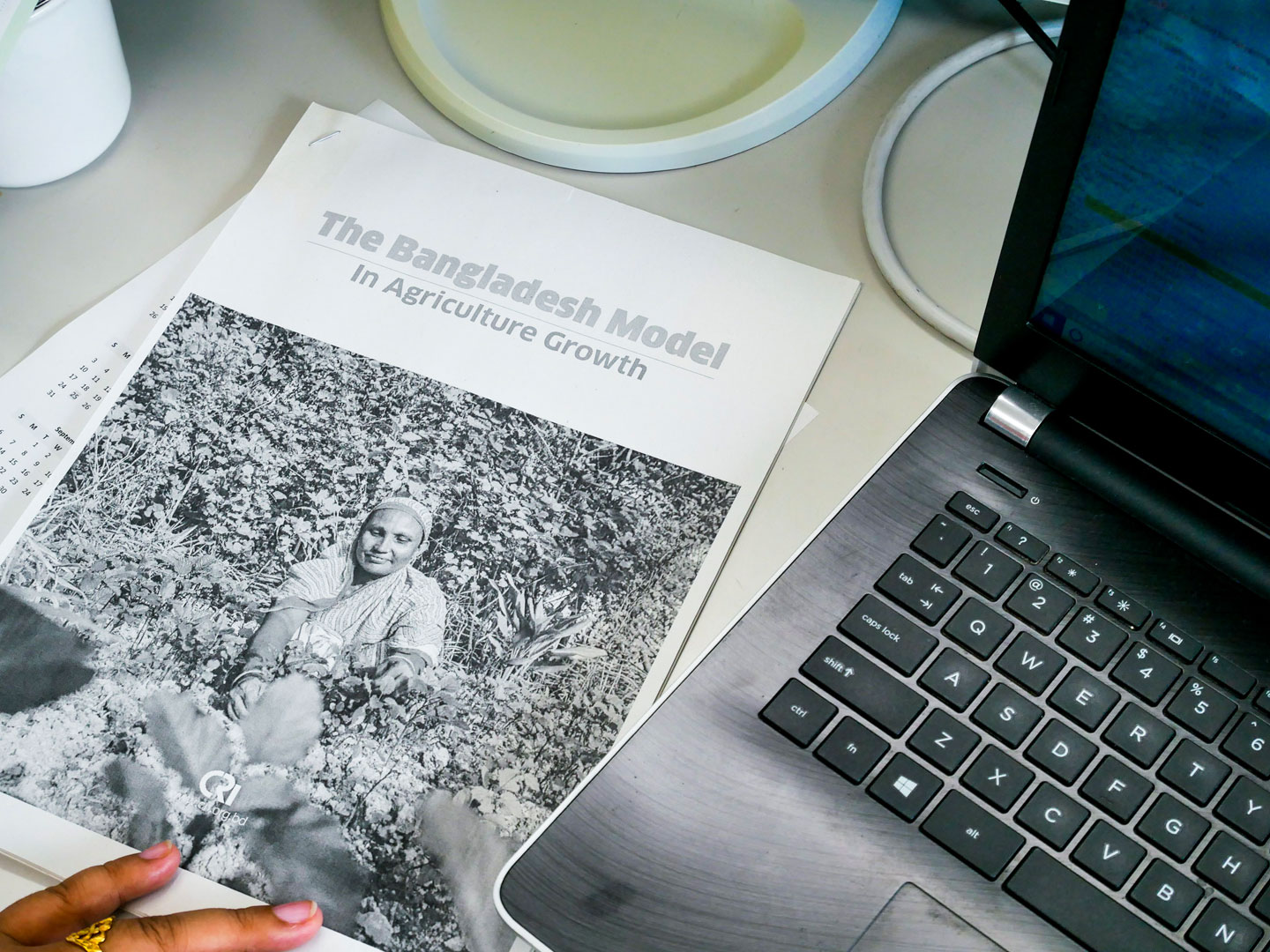 Along the streets and walls of Tsukuba University, amidst lush greenery are bright, sky blue signs with a simple message: Imagine the Future. While it has always been an ambitious task to undertake, it has become increasingly more so during this year in which so much uncertainty and unprecedented challenge has presented itself to the entire world. Fortunately, where there is challenge, there are also change and opportunity. Just as Sara and Jannat have acclimated to their new way of studying, the world has the opportunity to not only adapt, but also rise back better than before.